When did you realize you were an artist?
 I've always loved drawing. Since I was a kid, it was my favorite hobby, I always had pencils or brushes on me. I could spend days by myself drawing in a corner of my room. I naturally started studying art when I was 15 and I couldn't see myself doing any other profession later on in life. And so I started a design agency at the age of 23, then later on I focused on a more personal artistic project in 2010, around etching and sculpting metal (my Wall Jewelry pieces today). I really wanted to create my own unique artwork that I started presenting in art galleries in 2013 in Paris, London, Tokyo, etc… I never expected I would be where I am today, all this time I was just following my desires. Reflecting on the path I took in life, today I see that circumstances drove me to be an artist.
How was your childhood? Was yours an artistic family?
 I grew up alone with my mother in Paris. She wasn't an artist and had never studied art. Despite that, she was my biggest fan and was always encouraging me to draw and she was constantly complimenting me. It definitely built up my confidence and motivated me to pursue this path even though I still had my doubts and cared a lot about other people's opinion on the matter. I remember I used to draw on the walls at home and she would let me do it. She would hang my drawings on the walls of our apartment, she would buy me all the material I needed to stay creative and she never opposed me specializing in art during my studies. A lot of parents stop their kids from pursuing an artistic path because they fear for their future. But my mother was really sensitive to art, she would bring me to museums and various exhibitions, she taught me what freedom of thought was and she wouldn't care too much about what people thought of her. What mattered the most to her was freedom and audacity and she passed that on to me!
 Nature is my main source of inspiration; I love observing and drawing everything about it. That's why I travel so much and bring my sketchbooks and pens with me; it allows me to draw new things all the time. But then I have certain phases: sometimes I focus on insects that I adore, or on birds and fish I find extraordinary, or simply flowers that never cease to amaze me with their intricate details. In 2015, my mother died and it was definitely perturbing. I decided to draw the human body as a way for me to reconstruct her body; it was like therapy for me. Three years ago I really enjoyed drawing all the pets I ran into, whether cats or dogs, it was a really fun theme to work on. Lately, I've been really troubled by what's going on with the Coronavirus and I need to draw all the time to not get too worried. It bothers me a bit but it's definitely going to lead me to a new theme!
Lucky Charm by Michaël Cailloux. 16 x 16 inches (40,5 x 40,5 cm.) Giclée print of an original  drawn by hand and colored in digital.
Space Ocean by Michaël Cailloux. 16 x 16 inches (40,5 x 40,5 cm.) Giclée print of an original  drawn by hand and colored in digital.
Poppy Land by Michaël Cailloux. 16 x 16 inches (40,5 x 40,5 cm.) Giclée print of an original  drawn by hand and colored in digital.

You did your dissertation based on the fly in the 18th  century. I found this topic fascinating. The fly is a symbol related to death, but also it is such an important and conceptual detail in 18th and 19th century paintings. It is the sign of verisimilitude in Tromp l'oeil, the wink-wink of the painter, if you want. How do you appropriate the fly in your artistic productions?
The fly always fascinated me since I was a kid; it's part of our everyday life, flying around us. Sometimes we chase it away, other times we simply let it be… depending on our mood. We don't realize it but it's there, present in our day to day life. My passion for this harmless, yet hated little insect led me to make it the subject of my graduation project, my memoire. I decided to always have it by my side so I made it my symbol and my logo. It's almost like my lucky charm. If you look carefully, it appears pretty often in my artwork, sometimes visible, other times indistinguishable.  Just like in your own life, you either see it and try to make it leave, or it just flies by you unnoticed. I always see them flying around my studio and to me it's positive sign as they're essential to biodiversity.
Your work plays with vibrant colors and a variety of images from nature, such as plants and animals in a somewhat baroque style. It has the exuberance of baroque and the ornate detail of the Rococo, what do you want to communicate with your style?
I'm inspired by various artistic movements like Art Nouveau or Naturalism, which resembles Baroque style. But above all what I'm trying to communicate is a smile and joy. I really want to pass on positive energy. Even when I worked on the human body I tried to have hints of humor and a positive, hopeful message. Certain themes are recurring, like anachronism and lately I've been working on movement, biodiversity and seasons.
Earth from space by Michaël Cailloux. 16 x 16 inches (40,5 x 40,5 cm.) Giclée print of an original  drawn by hand and colored in digital. 
Your work is applied in many ways: fashion design brands, jewelry, wallpaper, even teaching. Tell us about your experience in applied art.
My experience in applied art allows me to work on various mediums and surfaces. At school we were taught to work on different material: wood, metal, paper, linoleum, etc… It definitely allows me to apply my drawing on any surface I want. Despite all that, when I was contacted by Lenôtre, a famous French pastry shop, to work on a Yule log and Epiphany cake, it quite challenging! Currently, I'm working on a porcelain in nerware collection with Bernardaud and once again, I have to adapt my drawings to fit the material. It's not unsettling at this point anymore; it's just another challenge. As well as for my collection Lemon Insect for Les Émaux de Longwy, I had to draw directly on the vases and jewelry boxes. All my past experiences prepared me for this and enabled me to adapt so easily!
Birds' song by Michaël Cailloux. 12 x 16 inches (30,3 x 40,5 cm.) Giclée print of an original  drawn by hand and colored in digital. 
How is your workplace like?
 There's stuff everywhere! It's organized in my own way.  There's all the material I need to draw, engrave, sculpt, etc… and my artwork is on the walls. I also have loads of books, artwork from my favorite artists like Magritte or William Morris, framed insects as well as all of the souvenirs I've collected along my many travels. All that inspires me on a daily basis. It's a cozy cocoon where I feel good. 
d
What is your teaching philosophy?
 Never worry about what other people think. Do things your own unique way, and try to be as free as possible.
What would you say to artists who are in the beginning of their careers?
 Be free but listen carefully. Pay attention to feedback and adapt to make progress. It all takes time so you need to persevere. Starting an artistic career is an immense challenge that will take a lot of work and investment. Don't feel discouraged because of some critics; it happens and it will keep happening. You need to accept and be comfortable with what you're doing while taking in what other people have to say, if they're benevolent and if their intentions are good, of course. 
How do you relate to digital art?
 I love digital art, it's important to stay with the times. It's truly impressive to see what you can do thanks to technology nowadays. I really love motion design for example, and I work with my assistant Maïa Pierre who makes my drawings move and gives a new dimension to my artwork. Digital pieces like that are also being shared way more on social media, so it's a great way to try new things, experiment with color and see the results right away. To me, the internet is a whole medium on its own.
Is there an equivalent to the 18th Century fly in today's art?
 In the 18th century, women used to wear an artificial beauty mark (also called une mouche meaning a fly in French) on their faces to show what mood they were in that day: coquette, discreet, generous, etc… This doesn't really exist anymore today. Women can adapt their makeup for an event but there's not much more meaning to it than that. However, I think social media is now where we show how we feel or share our daily thoughts. It's kind of like the "fly of the day".
This work, 'Giotto's Fly', is a derivative of 'Painting Background Oil On Canvas Art Realism', 'Fly' used under CC BY. 'Giotto's Fly' is licensed under CC BY SA 4.0 by The Cultural Me.
On her headdress is a fly, either a symbol of mortality or a reminder of the artist's skills of illusion. The portrait probably dates from about 1470. National Gallery, London
What are your future projects?
 I'm currently working on a porcelain dinnerware collection for Bernardaud called Féerie, which means Enchantment. I'm designing a project for a big French hotel's Christmas event later this year. I also have an exhibition in Switzerland I need to prepare for 2021. I'm designing a new vase for Les Émaux de Longwy called Pince-moi, which means Pinch Me, and finally, I'm thinking up new ideas for my next book.
 I love biographies. Currently, I'm reading Yves Saint-Laurent by Laurence Benaïm. And the book I keep going back to is Les liaisons dangereuses, or Dangerous Liaisons in English, by Laclos.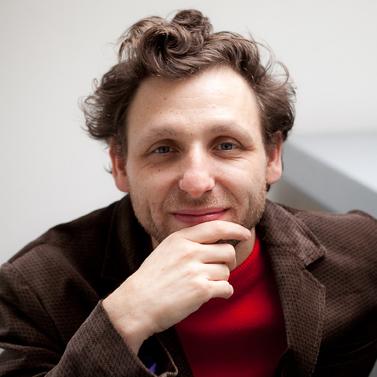 click on link to see more of Michaël Cailloux beautiful collection for Toi Gallery
by Karina Miller 
Leave a comment
Comments will be approved before showing up.